Jostlori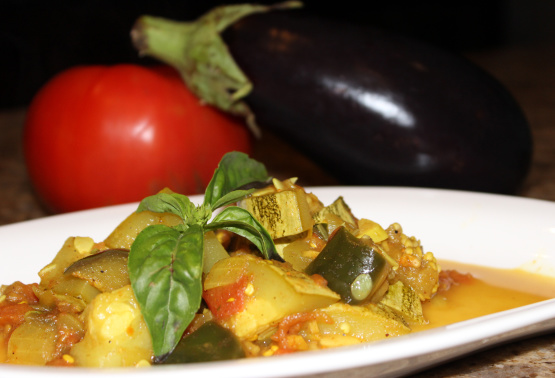 This is an intriguing twist on a classic, Indian spices combined with Mediterrran flavors. A mini food processor works really well for chopping the garlic, chile, and ginger root. Serve on rice or orzo or accompanied by a crusty loaf of bread. Adapted from Moosewood Restaraunt New Classics cookbook. Enjoy!

I've not made this recipe but I can tell I'm going to .. . There is extremely little Alzheimer's in India and research is showing turmeric (curcumin)to be the "cause". Research is also showing the plaques in alzheimer's to "possibly begin to disintegrate" when mice are given turmeric . .something to keep in mind. Also, if you are serving this over brown rice, try adding some hulled (or pearled if you prefer)barley to the rice - cook 5-10 minutes first then add the brown rice to the water. Barley has the lowest glycemic index scale of all the grains - about a 23, brown rice is about a 50 or so. If you add chicken stock and/or spices to the rice you can ramp up the flavor of the dish even more. Sometime, try adding red pepper flakes to your rice directly (if you're a "spicey" person)as it cooks. Good health as well as good eats!
In a stew pot, saute the onions in the oil on medium heat until translucent, about 10 minutes.
Stir in the garlic, chile, ginger, cumin, coriander, turmeric, cinnamon, cardamom, salt, and saffron and saute for a minute, stirring constantly.
Add the orange juice and eggplant, toss to coat with the spices, cover, and simmer for 10 to 15 minutes, until the eggplant is barely tender.
Add the squash, bell peppers, tomatoes, and basil.
Cover and continue to simmer about 15 minutes, until all of the vegetables are tender.
Add a little more orange juice or water if necessary to prevent sticking.
Serve hot or at room temperature.
If you like, add a dollop of plain yogurt to each serving and top with fresh basil and a few toasted almonds or pistachios.