Indian Pudding (Microwave)
HisPixie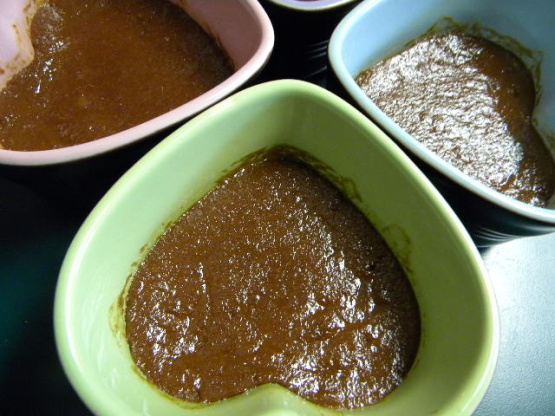 another wintery dessert, full of flavor

Tasty and easy. The consistency is surprising...but you get used to it. Mine didn't unmold; they fell apart so we just ate them out of the ramekins with some whipped cream. Maybe that's because I interpreted "medium power" on the microwave as 50%. I'm not sure what "medium power" should be.
put butter in microwave dish for i minute, set aside.
in 3 qt micro casserole combine milk, molasses, sugar, cornmeal, cinnamon, nutmeg, ginger and cover.
cook on hi for 5-10 minutes until thickened, stirring once meanwhile beat eggs into melted butter, and add vanilla.
add to casserole pan, stirring constantly.
por into 6 ramekins and put in a circle in the microwave.
cook uncovered for 10-12 minutes on medium.
let stand 10 minutes.
to serve, loosen with a knife and invert onto plates.