Indian Memorabletandoori Prawns
Thorsten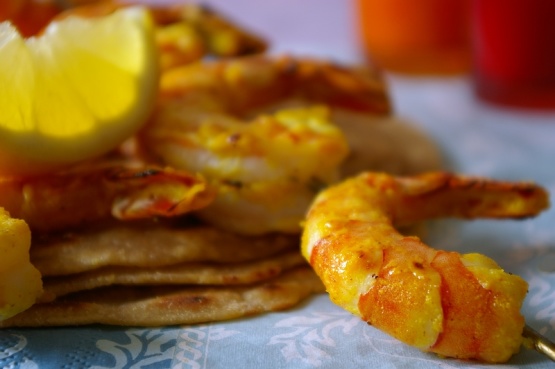 This delicious recipe is picked out of the Foodcourt column by Anjali Vellody of the Weekend magazine. Hope you enjoy this wonderful dish to the fullest. Please note: Cook time is a guesstimate. If you try this recipe, let me know how long it took to cook.

loved this, i did not have the mango powder either, but added some coriander root and a 1/2 tsp of fresh unripe smashed mango (no idea if it would get close, but was looking to do what the other reviewer said it was great for...sharpness and accentuating)Either way it worked well.
In a bowl, mix together the ginger and garlic paste with 1/3 cup of fresh lemon juice.
Add salt, red chili, turmeric and garam masala powders, gramflour and yogurt. Mix well.
Add prawns to this prepared mixture and toss to coat well in it.
Keep aside to marinate for 2 hours.
Skewer prawns and barbecue until done.
Baste the prawns once with butter for a few minutes before they are done.
Transfer to a serving dish.
Sprinkle with 2 tbsp fresh lemon juice and mango powder.
Serve and enjoy!