Indian Grilled Sour Cream–marinated Shrimp
jenne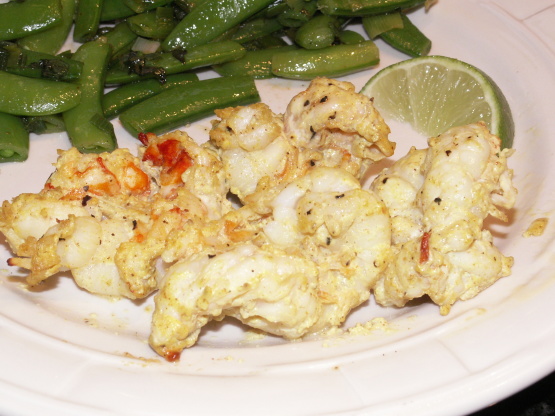 This is an at-home, easier version of a classic Tandoor shrimp. This one is cooked on the grill and marinated in sour cream instead of drained yogurt. From Food & Wine May 2008 edition. Note: I made this again tonight and it was raining, so instead of grilling I simply broiled them on high for 3 minutes, flipped them over and broiled them another 3 minutes to perfection. Don't forget the lime juice at the end, as it really brings together all of the flavors!!!!
In a large, shallow dish, whisk the sour cream with the garlic, cumin seeds, garam masala, peppercorns, ground cumin, ginger and turmeric.
Add the shrimp and coat thoroughly with the marinade. Cover and refrigerate for 3 hours.
Light a grill,oil your grates and bring up to high heat.
Remove the shrimp from the marinade and thread onto skewers; season with salt.
Grill shrimp almost cooked through, 2 minutes per side. Brush the shrimp with the butter and grill until glazed and just cooked through.
Serve with lime wedges.