cyaos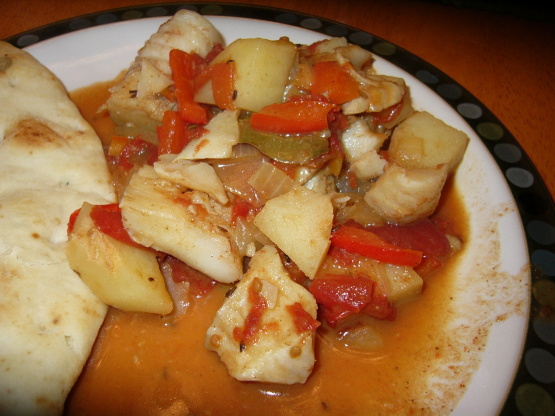 My mother-in-law gave me a box of small recipe books called "Recipes from Around the World" to try some stuff out and this was one of the first dishes I tried as it seemed interesting - and it was out of the "Best of India" book which just so happens to be my favourite cuisine. This dish is very quick and simple to make and is perfect for a cold weeknight.
Heat the oil in a large, deep sided frying pan and fry the cumin seeds for 2 minutes or until they begin to splutter. Add the onion, pepper, garlic, chillies and bay leaves and stir well.
Fry the vegetables for 5-7 minutes on low heat until the onions are browned. Add the ground cumin, ground coriander and chili powder and cook for 3-4 minutes.
Stir in the tomatoes, potatoes and fish (or vegetable) stock. Bring to a boil and simmer for 10 minutes.
Add the fish, cover and simmer for 10 minutes or until the fish is tender. Serve with chapatis.