Iceland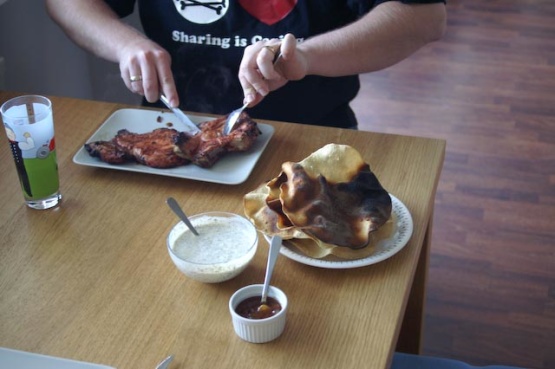 We had been barbecuing quite some times this summer so i was getting bored as i am not that much into meat to begin with. We also had 2 pork chops in the fridge which we needed to use up. I came up with this Indian Dinner which was a huge success. I want to try it with chicken breasts next time but you can also use courgette instead and make it into a balanced vegetarian meal. It was a perfect barbecue night but still something else. We really like Indian food and this was easy to make and cheap. Everything I used was off the shelf so though it is a bit time consuming in preparation and cooking it was a blast. We liked fresh water or lassie with this.

I used chicken breasts here, then followed the recipe right on down, though I did use but half of a chili pepper. We found the dinner enjoyable, what with using a handful of ingredients that aren't usually in our kitchen, & experiencing flavor combos that were new to us! [Made & reviewed while touring Asia with ZWT6]
Spread meat with tandoori marinade and set aside.
Melt butter in a pan and add onion.
When the onion turned golden, add cabbage.
When the cabbage turned soft, add carrots.
Add water and shimmer with lid on for about 20 minutes.
Add the spices when ready and stir.
Put rice and water into another pot, when water boils add salt and saffron, stir once and cook until tender.
In the meanwhile mix all the ingredients for the yogurt sauce and set aside.
Heat grill (Note: if you are not using an outside gas grill you should start turning the oven to 220°C and grill the meat in the oven for about 30 to 40 minutes).
Grill the meat until tender.
Spread oil over pappadums and heat them on the bread-shelf of your grill, be careful, this will be quick.
Put some chutney into a nice bowl.
Arrange everything around the dinner table, preferably in good quality china.
Eat with fingers if you like.