Indian Curry With Potatoes, Chicken, and Eggplant
Betsy G.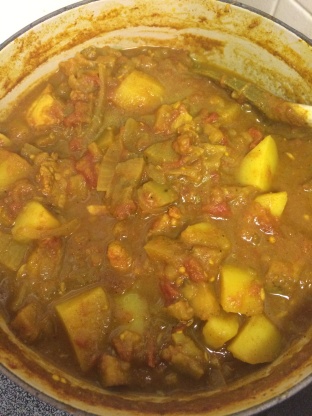 This is a delicious and fairly easy curry recipe, it uses many spices and has a lot of flavor. NOTE: the longer you leave it to sit, the better the flavors to develop

Husband really liked this!! Easy to throw together. I despise eggplant so I wouldn't even try it. I did halve the recipe - it would have easily served 4-6 people!!! Husband said chicken was a bit tough after being on the stove so long, he thought some fresh garlic would up the flavor a tiny notch too. Healso asked me to try adding maybe lamb meatballs to get some more meat in the dish to his preference. So, 4 out of 5 made without changes. Great recipe, husband says!! I have a pic, but app won't let me lig in to load it!
Cut all of the vegetables and the chicken accordingly. Put all ingredients into a large pot (not cast-iron, the acidity of the tomatoes is bad for it).
Cook over high heat for approximately 10 minutes. Turn heat to low and let slow cook for approximately 7 hours.
Serve with hot basmati rice or naan/chapatis/roti.