MomLuvs6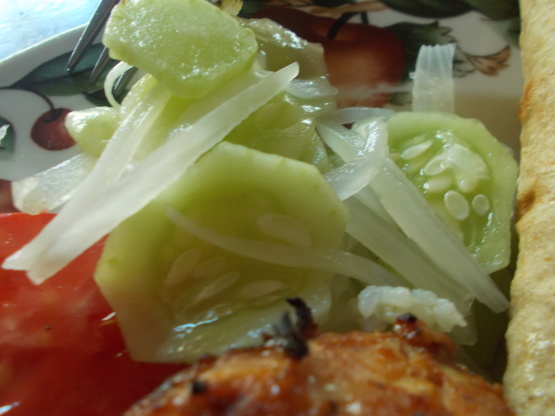 From an old cookbook with the cover gone its so old! Cooking time is chilling time.

After making this salad three times and following the advice of other reviewers, the measurements I thought tasted best were: 1 1/2 tsp honey, 1 T fresh lemon juice, 1/2 T chopped fresh mint, and 1 tsp cumin. I also thought something was missing and added a pinch of kosher salt. It did the trick by enhancing the other flavors and adding perfect balance. (I later saw another reviewer had also discovered this. :) ) It does taste amazing when left to sit in the fridge a bit (but don't mix into cucumbers til ready to serve due to water separation). I didn't find I needed the entire amount of dressing--just stirred in what I thought would be a good amount. Awesome easy salad to go with our spicy chicken curry!
Peel the cucumber and slice as thin as you can, peel and cut the onions as thin as you can. Add both to a serving dish.
Sprinkle with salt and add the juice - stir to combine.
Cover and chill for 1 hour.