Indian Chicken Meatballs and Lentil Stew
Nasseh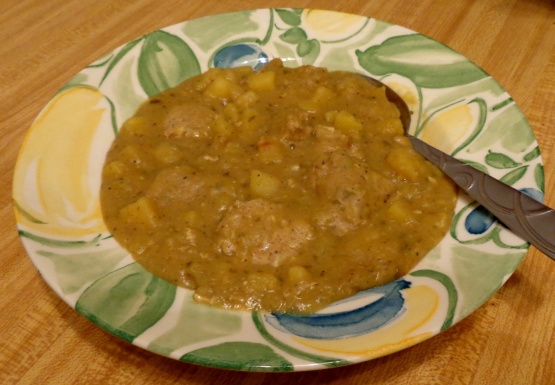 Healthy & Tasty. I use my pressure cooker to cut down on cook times.

This was a really great recipe! Am always on the lookout for new ways to use lentils--so healthy & inexpensive! I DID change the spice amounts--upped them to add more flavor. For the meatballs, I used parmesan cheese in place of the olive oil mayo, which I didn't use. I used 3/4 tsp garam masala & added 1/4 tsp garlic powder. I used dried parsley & left out the lemon--used lean ground turkey & used less black pepper. For the stew, I left out the potato (personal preference; I may include it next time!), upped all the spices & used regular lentils. I needed about 1/2 more water to keep the broth going--and the lentils look about 30 min to cook at a hard boil. Served w/ whole wheat naan bread. Thanks so much for sharing!
Meatballs:.
Combine all ingredients except oil in a bowl. Heat the oil in a frying pan.
Scoop out about a ping pong ball size of the mixture & place into the frying pan. Continue until all the mixture is gone.
Brown the meatballs on both sides but do not cook through.
Stew:.
Heat oil in a large pot then saute onion & garlic until lightly browned. Add spices, cook, stirring until fragrant.
Add broth, potatoes, lentils, spices/herb, & meatballs; bring to a boil then immediately reduce heat to simmer.
Covered for 20 minutes until potatoes are cooked and sauce is thickened.
Optional: Serve over basmati rice cooked in chicken broth or use thick bread to scoop up the meatballs & lentils.