ImPat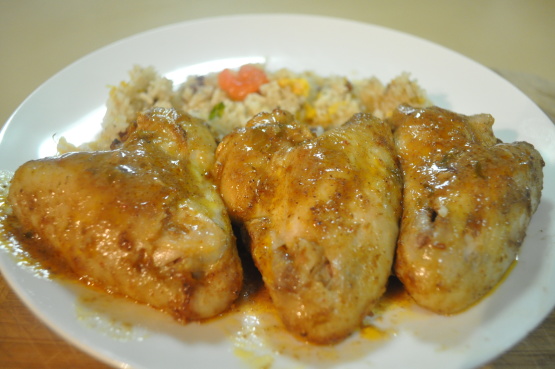 finger food. You can use chicken wings instead of drummettes. Prep time is marinating time

Top Review by ImPat
Well I have made similar using yoghurt but have to say I prefer the cream for when I used the yoghurt (using greek yoghurt) I had it split and it did not look good but had no such problem with the cream and I used the pan juices and drizzled over the wings and served with fried rice and that said I think I would serve with plain rice and dollop the juices over the rice and have steamed vegetables on the side. The big thumbs up came fromt he DM who insists she does not like curries. I did use a Thai Massaman Curry paste as that is what I had and as we don't care for coriander I used sweet basil but it was a delicious dish, thank you Sonya01. made for Make My Recipe.
Combine cream, curry paste, coriander and lemon juice in a large ceramic dish. Add drumettes. Stir until well coated with marinade. Cover. Refrigerate for at least 2 hours or overnight if time permits.
Preheat oven to 200°C Line a baking tray with baking paper.
Remove chicken from marinade. Place onto tray. Bake for 30 to 35 minutes or until golden and cooked through. Serve.