Indian Chai Latte Muffins
Shelvin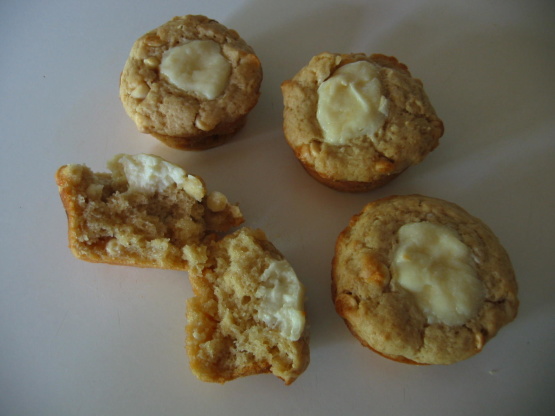 My friend Sharon shared this recipe with me. Delicious!

This muffin recipe shouldn't be passed over! Very subtle in flavor and the cream cheese on top makes it delicious! I followed exactly but used lowfat cultured buttermilk (that's what I had on hand) and they turned out great as you can see in my pic! Thanks Sherri!
Preheat oven to 375.
Grease 12 muffin cups or use butter-flavored spray.
Mix all dry ingredients together, add milk, melted butter, egg, and vanilla, mix well. Stir in white chocolate chips.
Spoon into 12 muffin tins.
Mix cream cheese, vanilla and sugar together until smooth. Using the back of a spoon make an indentation in the top of each muffin and add a heaping teaspoon of cream cheese mixture into the indentation.
Bake at 375 for 18 to 25 minutes, until edges of muffins begin to turn golden brown. Test with toothpick in side of muffin away from cream cheese filling. Remove and cool.
If using mini-muffin cups, bake 15-18 minutes.