Indian Cabbage and Carrots
PaulaG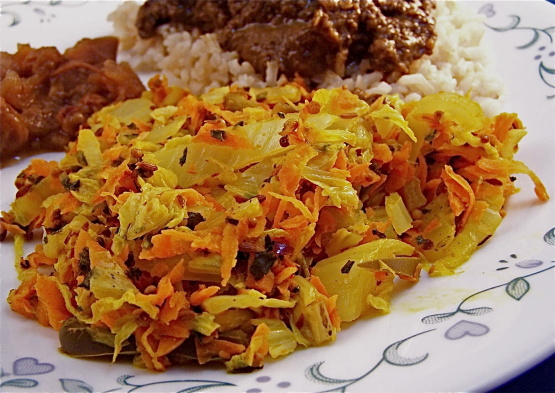 A sweet and spicy way to use up that leftover cabbage. This is my everyday version of Madhur Jaffrey's Sambhara. If you like Indian food, definitely pick up one of her cookbooks!! So good and so simple.
Top Review by PaulaG
I made this using a several of the seasoning suggestions that Charishma Ramchandani made in her review. A small amount of water was added to the pan and the cabbage/carrot mixture was allowed to steam for several minutes but was still slightly crisp tender. It made a nice vegetable side.
Heat oil in a wok or deep, wide skillet over a medium-high flame.
When hot, put in mustard seeds.
As soon as the seeds begin to pop (this takes only a few seconds, really), put in the dried chili.
Stir once.
Within seconds the chili will turn dark red.
Put cabbage, carrots, and hot pepper in the pan.
Turn the heat down to medium and stir the vegetables for about 30 seconds.
Add salt, sugar and cilantro.
Stir and cook for another 5 minutes or until the vegetables are just done and retain some of their crispness.
Stir in lemon juice.
Remove red chili and serve.
Note: You may want to have a lid handy for when the mustard seeds begin to pop.
They're hot little projectiles before they're mixed with the veggies.