Indian Butter Chicken (Murgh Makhani)
KateL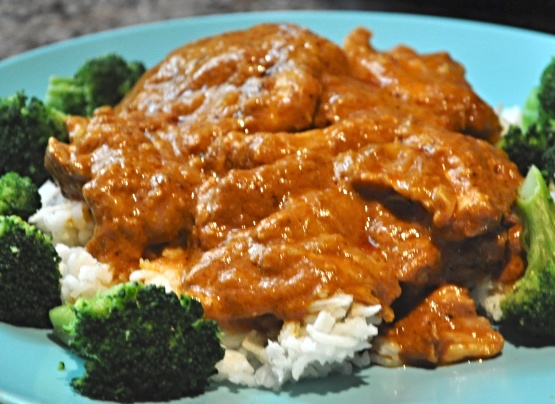 Murgh Makhani (otherwise known as "Butter Chicken" ) is one of my favorite Indian dishes. It is also a great dish to make for people who are new to Indian food-- everybody seems to like this one! I like to make it in the slow cooker; this allows the chicken to become melt-in-your-mouth tender and super flavorful. Serve it with steamed basmati rice and naan bread for dipping!

Top Review by KateL
Yummy mild mellowness! Straight to our "A1 Regular Rotation" cookbook. Bought and used 4 lb. of boneless skinless chicken thighs and had plenty of sauce leftover. Used 2 tbsp. of dried Tandoori Masala mix (could make Recipe#507464 #507464 or Recipe#507466 #507466.) For the cardamom pods, I used a coffee filter instead of cheesecloth and tied it with a wire twisty (with all the paper removed). After putting the chicken thighs in the crockpot, I added the sauce ingredients to the butter-onion-garlic mixture and mixed thoroughly before pouring over the chicken, then submerged the cardamom pod packet in the middle. Made for 2013 My Three Chefs.
Melt the butter and oil in a skillet over medium heat. Add the chicken, onion and garlic and stir fry it until the chicken is cooked and the onions are translucent. Pour contents into the slow cooker.
Add remaining ingredients and mix gently.
Cook on high for 3-4 hours. Season with salt and pepper, to taste. Serve over steamed basmati rice and with Naan bread for dipping.