rpgaymer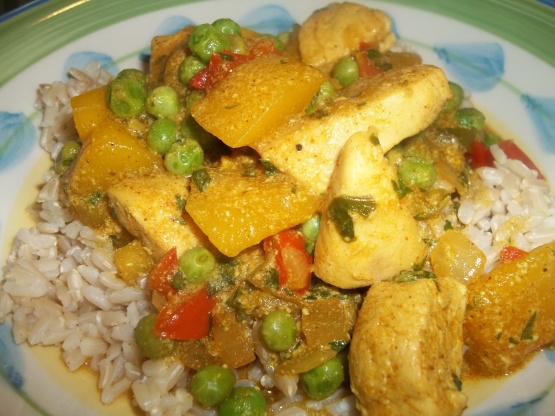 This healthy curry dish is the perfect high-performance fuel! For a different flavor, substitute fresh mango for the apple. Adapted from Eat, Shrink & Be Merry.
This was a very good tropical-flavored curry. It reminded me more of a Thai or Jamaican curry more than an Indian one, but I like curries of all kinds anyway. Instead of using chicken thighs, I diced some chicken tenders that I had in the freezer. I also added minced ginger and a chopped serrano pepper in with the onions. I went with a mango instead of an apple in here, and liked it.
Spray large, deep skillet with cooking spray and place over medium-high heat; add chicken pieces and cook until lightly until both sides are lightly browned, about two minutes per side. Remove chicken and keep warm.
Add onions, red pepper and garlic to the same skillet. Cook and stir until vegetables begin to soften, about three minutes. Add curry powder, chili powder, turmeric and cinnamon. Cook and stir for one more minute. Add coconut milk, mango chutney, lemon zest and salt. Mix well. Stir in chicken pieces and apples. Cover and simmer over low heat for 15 minutes. Add peas and cilantro. Simmer, uncovered, for five more minutes.
Serve hot on a bed of basmati rice.