India Spiced Eggplant (Aubergine)
Jim9640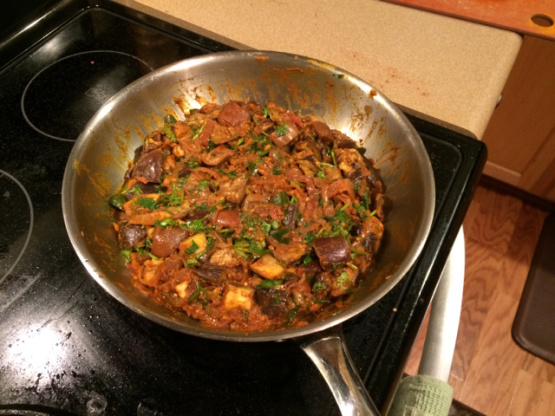 From an internet site called Ashbury Aubergine's Eggplant Recipes

Long story, but I'll try to make it short! Russ came home today with an eggplant for no apparent reason then I went looking for a beef curry in my cookbook and stumbled upon this recipe and decided to make it as well! What a find! We eat heaps of ratatouille and to us, this is like an Indian version minus the zuchinni and with yummier spices. A FANTASTIC find. I made half a recipe but found it needed all the water added in.
Place whole eggplant in a shallow pan and bake in a 400. oven until very soft, about 50 minutes.
Alternatively, prick with a fork, set on paper toweling, and microwave, uncovered, at 100% for 18-20 minutes.
Cool slightly.
Cut eggplant open and scoop out the pulp in large chunks, discarding larger seed pockets, stem and skin.
Coarsely chop. (Some people prefer to leave the skin on and chop the eggplant into 1-inch cubes.).
Set in a colander to drain.
Coarsely slice red onion.
Mince ginger.
Heat oil in a wide frying pan over medium heat.
dd cumin seeds, ginger, and onion and cook, stirring occasionally, until onion is soft.
Coarsely chop tomato and seeded green pepper.
Add to onion mixture along with turmeric, coriander, ground cumin, paprika, salt, and pepper.
Cook, stirring occasionally, for 5 minutes.
Add water and bring to a simmer.
Reduce heat to low and simmer for 10 minutes.
Stir in chopped eggplant and cook for 5 minutes just to heat through and blend flavors. Just before serving, stir in coarsely chopped cilantro.