Incredible Pimento Cheese
Nimz1466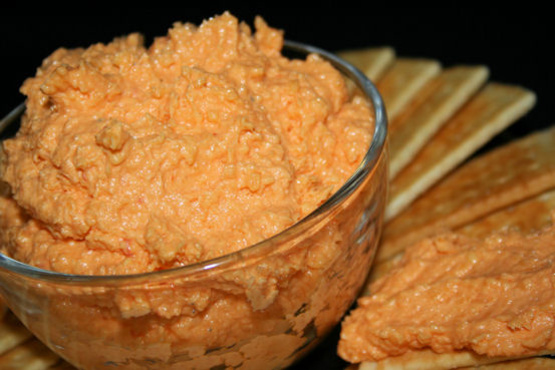 Our favorite, from Southern Living Homestyle cooking 2002. This makes a lot, I often half the recipe. It freezes well for up to a month. I usually double the pimento. My mom makes it with light velvetta, reduced fat cheeses, lite mayo and splenda and it is still really good.

Very good! I was looking for a pimento spread to satisfy my craving for Floyd's Restaurant's pimento cheese, as Floyd's has closed. This was not only very good, but very close. I swapped out the mayo for Miracle Whip as I know that's what they used on their sandwiches. Floyd's had more pimento, so next time I'll double it; a moister consistency (I don't think they drained the pimentos) and a little extra tang (I'm guessing they added some Worcestershire sauce). None of this is criticism, this is Very Good and I will definately make this again.
Process half of all ingredients in a food processor until cheese mixture is blended.
Remove processed cheese mixture to a large bowl.
Repeat procedure with remaining half of all ingredients.
Serve with assorted crackers, or use as a sandwich spread.