Incredible Ice Cream Sandwich Sundae Dessert
Karen..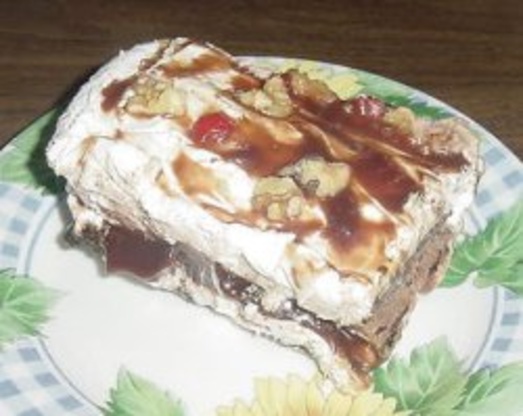 This is so so so good and cold on a hot summer's day! You can also make it up to 2 months in advance, so you can have it ready for unexpected guests :) I have modified this so much and tried it different ways, but the best is below with all of the optional ingredients used! I am the "dessert person" at all of the family gatherings and this is the most requested all the time! Enjoy!
19

ice cream sandwiches (regular "or" neopolitan)

1

(12 ounce) container frozen whipped topping, thawed

1

(12 ounce) jar chocolate fudge topping

0.5

(12 ounce) jar strawberry ice cream topping (optional)

0.5

(12 ounce) jar butterscotch sundae sauce (optional) or 0.5 (12 ounce) jar caramel ice cream topping (optional)

1

cup of chopped walnuts (or 1 jar of wet nuts ice cream topping)

1

(10 ounce) jar maraschino cherries
banana, sliced (optional)
Cut one ice cream sandwich in half.
Put one whole and one half ice cream sandwich along the short side of a 9" x 13" baking dish.
Arrange eight ice cream sandwiches in opposite direction evenly in bottom of pan.
Spread with half of the whipped topping.
Drizzle or dollop most of fudge topping on top of whipped topping (save a couple tablespoons).
Drizzle optional toppings (if using) and nuts on top, reserving a couple tablespoons of each.
Repeat another layer of ice cream sandwiches.
Top with remaining whipped topping.
Fancily drizzle remaining hot fudge, butterscotch and strawberry toppings on top, along with walnuts or wet nuts.
Cover and freeze for up to 2 months.
Remove from freezer 20-30 minutes before serving.
Cut into squares and top with a few maraschino cherries.
Serve slices bananas on the side for people who are in a banana split mood and want to top theirs with bananas!
YUM YUM YUM!