Incredible Banana Coffee Cake
Zaney1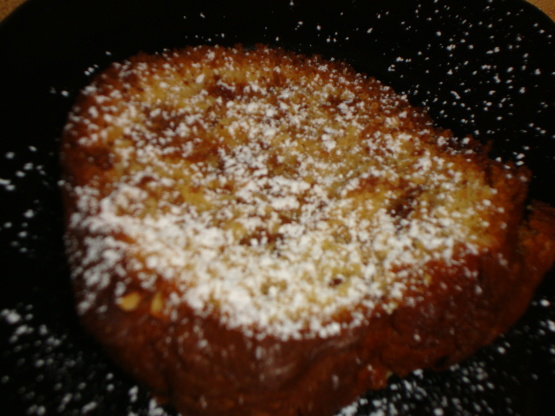 This recipe elevated a plain cake mix into something special. I used a banana cake mix and pecans instead of almonds. The cake stayed super moist and was a huge hit with my family. I skipped the powdered sugar and we thought the cake was plenty sweet without it. I saved this recipe in my favorites. Thank you for sharing the recipe!
Preheat oven to 325°.
Grease a 3 quart Bundt pan.
Puree bananas (1 cup).
Combine banana, cake mix, pudding, oil, eggs and vanilla extract in large mixing bowl.
Mix well, beat on medium speed 8 minutes, scraping sides of bowl occasionally.
Mix almonds, brown sugar, cinnamon and nutmeg; pour one-half cake batter into pan.
Sprinkle with sugar mixture, cover with remaining batter.
Stick a knife in the batter, swirl in figure 8 patterns through the layers (Be careful, don't over mix layers).
Bake 60-65 minutes. Cool in pan on rack 10 minutes, then invert on rack to cool completely.
Dust with powdered sugar.
You may garnish cake with sliced bananas if desired.