Incredible Baked Meatballs
Emily E.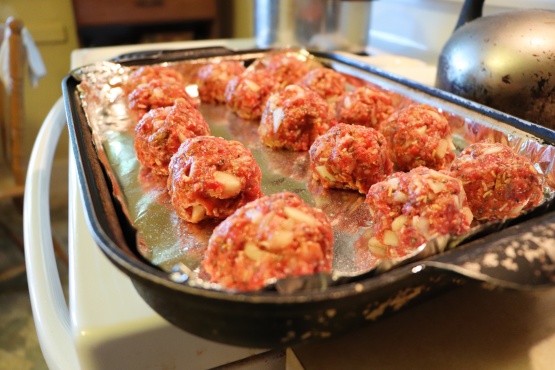 This recipe showed up on my FB newsfeed (shared from Just Recipes https://www.facebook.com/JustRecipes1?ref=stream). Doesn't seem to be submitted here yet. I am going to try this with buttermilk instead of milk.

Top Review by ImPat
I used 500 grams of very lean mince/ground beef and used the panko crumbs and for dietary and likable reasons used spring onion for the onion and used micro grated cheddar for the parmesan cheese (that was the likable one) but otherwise made as per recipe. I weighed my meatballs out and got 23 30 gram meatballs from the mix which took 35 minutes to bake at 175C fan forced, if I were going to put them into a sauce I would only cook them for 15 to 20 minutes (more than likely closer the 20 minute) as that would finish cooking them but in this case I poured the meat sauce over them but have to be honest would have preferred to have put them in the sauce as they were a little dry but still quite flavoursome (OMG just at this very point as I am reviewing I realized I did not put in the milk but in all honesty I think it may have made the mix to sloppy so maybe 1 egg and the milk!) but still a very delicious meal and very well received. Oh I got 23 ball from the mix, thank you YnkyGrlDwndr, made for Aussie/Kiwi Recipe Swap #77 June 2013.
Mix all ingredients with hands.
Form into golfball sized meatballs.
Bake at 350 degrees for 30 minutes.