Incredible Baked Meatballs
Emily E.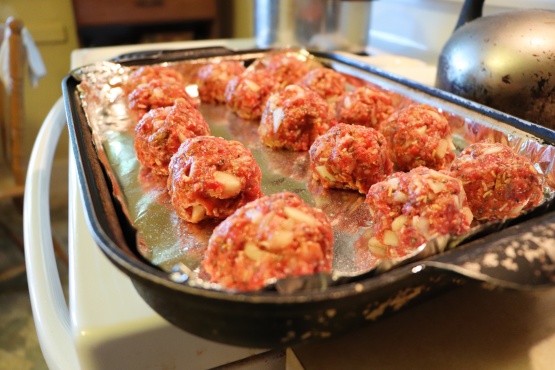 This recipe showed up on my FB newsfeed (shared from Just Recipes https://www.facebook.com/JustRecipes1?ref=stream). Doesn't seem to be submitted here yet. I am going to try this with buttermilk instead of milk.
The prep time is much more than 5 minutes. To keep the meatballs gluten-free, I toast 3 slices of GF bread, let them cook, and crumb them in my Nutribullet. I also mince the onion and measure out all of the other ingredients. I would say that prep time (if you are going to make your own crumbs) is close to 30 minutes. I used almond milk and brewers yeast per Jessica M's suggestions to deal with gluten and dairy allergies. I use half of the amount of brewers yeast so that it does not overpower the meatball; the brewers yeast gives the meatballs a fantastic "nutty" flavor. I put them in a crock pot with heated sauce after taking them out of the oven. I have tried other recipes and substituted 1/2 pork and the 100% beef wins out! We can't get enough of these moist, delicious meatballs.
Mix all ingredients with hands.
Form into golfball sized meatballs.
Bake at 350 degrees for 30 minutes.