Ina's Chicken Salad Sandwiches
loof751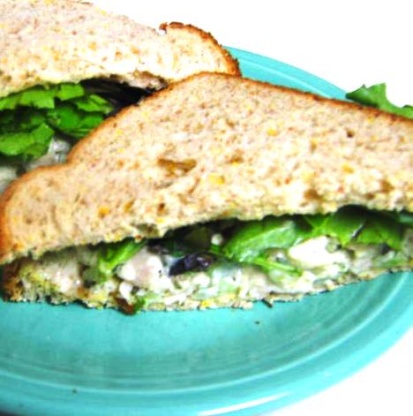 This is the Barefoot Contessa's favorite chicken salad sandwich. I absolutely love all of her recipes and this was no exception. She roasts her chickens rather than poaching them to insure that the chicken stays moist. I have tried it both ways and I think I have to agree with Ina, I like the roasting method best. However, use whatever method you prefer.

I baked boneless chicken breasts (since that's what I had on hand) and added currants. This was an excellent chicken salad. I loved the texture of the chicken- it's the best texture for chicken salad! Thank Irish Rose, for posting- Roxygirl
Preheat the oven to 350 degrees.
Place the chicken breasts, skin side up, on a sheet pan and rub them with olive oil. Sprinkle generously with salt and pepper.
Roast for 35-40 minutes or until chicken is cooked through. Set aside to cool.
When the chicken is cool, remove and discard the skin and bones and cut chicken into 3/4 inch pieces. Place chicken in bowl and add the mayo, tarragon, celery, 2 teaspoons salt and 1 teaspoon pepper and toss well.
To assemble, spread a little mayo on half the bread slices, top with the chicken salad and amount of mixed salad greens you prefer.
Cover with remaining slices of bread, cut in half and serve.