Ina Garten's Shrimp Salad (Barefoot Contessa)
Parsley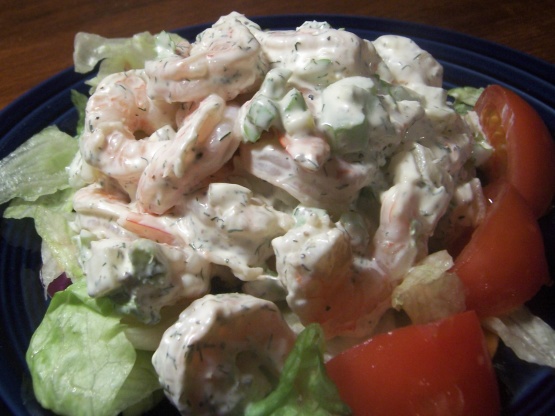 Take a break from the heat of the kitchen and whip up this perfect summer salad.

This is good! It's a very luxurious shrimp salad, in my experience, and would be beautiful as is on a croissant. It could also be part of a larger green salad. I think some avocado added would be delicious. How lucky I was that I happened to have shrimp in the freezer and some fresh dill! The word serendipitous comes to mind. Thank you very much for sharing this recipe with us.
In a large bowl, whisk together the mayonnaise, mustard, vinegar, salt, pepper and dill.
Combine with the shrimp.
Add the red onion and celery and check the seasonings.
Serve or cover and refrigerate for a few hours.
Note: If using a food processor to mince the onion and celery, make sure you drain them in a colander before adding them to the salad.