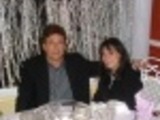 I had returned to New York from California this New Year to an empty kitchen and a snowstorm. Unable to get any groceries immediately, I had to make do with what I had on hand. I found some hero rolls that I had purchased just before I left on my trip, and decided to make garlic bread, even though I had no butter or fresh garlic. The result was actually really tasty!
Directions
Preheat broiler. Line cookie sheet with foil and spray with non-stick cooking spray. Lay split rolls on cookie sheet for 6 pieces of bread.
Melt margarine in microwave for 1 minute on HIGH; remove from microwave and stir in garlic powder, cayenne, and Italian seasoning.
With pastry brush, brush on seasoned margarine evenly, coating each piece well. Sprinkle with paprika.
Broil until well browned and bubbling, approximately 5 minutes, or to you liking. Serve.
Reviews
Most Helpful
What terrific last minute garlic bread that is not only perfect of two but if you do have leftovers they make very tasty sandwiches and crotons alike. I did not use the paprika as I just forgot it (oops, sorry). Thanks for the post.

I used butter instead of margarine. And I didn't use paprika on top. 5 minutes at broil was too much. Most of them were burned. But I was able to save 2 half of bread. Very good when we want something easy and quick without chopping garlic. Thanks Jackie :) Made for 123 hit wonders
Great! This was really simple and tasty. Since I often times have hoagie rolls in the freezer, this makes a nice quick bread for 1-2 servings. Thanks JackieOhNo! for a nice keeper. Made for Newest Zaar Tag.