Debbwl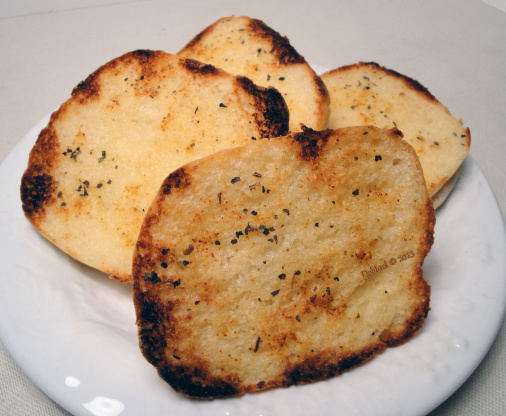 I had returned to New York from California this New Year to an empty kitchen and a snowstorm. Unable to get any groceries immediately, I had to make do with what I had on hand. I found some hero rolls that I had purchased just before I left on my trip, and decided to make garlic bread, even though I had no butter or fresh garlic. The result was actually really tasty!
Preheat broiler. Line cookie sheet with foil and spray with non-stick cooking spray. Lay split rolls on cookie sheet for 6 pieces of bread.
Melt margarine in microwave for 1 minute on HIGH; remove from microwave and stir in garlic powder, cayenne, and Italian seasoning.
With pastry brush, brush on seasoned margarine evenly, coating each piece well. Sprinkle with paprika.
Broil until well browned and bubbling, approximately 5 minutes, or to you liking. Serve.