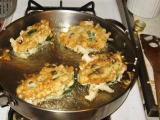 Frozen corn is a quick answer to a fast side dish. Most of it is pretty good but it can be improved without a lot of effort. This modification adds a few calories to the dish but the difference in the flavor of the end product is remarkable -- I've been using this recipe for years.
Directions
In a large saucepan over medium heat, pour in all the ingredients. Cover and bring it to a boil, stirring occasionally.
When the blend begins to boil, reduce the heat to low, allow it to sautee for ten more minutes (covered) and then serve.
NOTE: If you want the sauce to be thickened, just whisk in a tablespoon of cornstarch into the water, which should be increased to 3/4 cup, before adding it to the corn.
Reviews
Most Helpful
I had a bag of frozen corn to use up. I followed the recipe as written other then I used Splenda instead of sugar as that is all I buy. I made as directed but then added another tablespoon of butter. We normally aren't fans of frozen corn but we did enjoy this.

How funny....I was catching up on my zaar while waiting for hubby to get home and dinner was on the stove. Just so happened that I was making frozen corn. I had the water and butter in already, so I ran in and put the sugar in. It worked out great. Thanks.
This was good. It made just plain frozen corn taste like the super sweet stuff you pay twice as much for at the store in the tiny bags. I'll make this again. I didn't let it cook as long as the directions say, and I used a packet of Splenda rather than granulated sugar. Thanks for sharing!