Impossible Zucchini-tomato Cheese Pie
Derf2440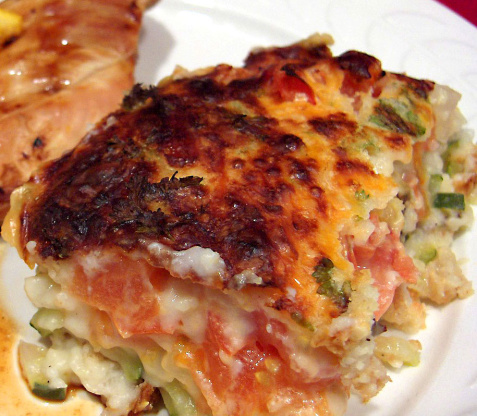 This recipe is from "The Chopping Block' printed in a local magazine. I have not made it but love Impossible Pies of all kinds. I searched Zaar but could not find another one -

I wondered about no eggs in the recipe, but after reading the review tried the recipe for lunch today...however it did not firm up as I expected, so perhaps it does need an egg or two?? Will be interested in reading other reviews as my family does enjoy this combination of flavors.
Preheat oven to 400F.
Spray a 10" deep dish pie plate with veggie oil.
Layer the zucchini,onion,& tomato in the pie plate.
Sprinkle cheeses evenly over the veggies.
Combine the biscuit mix, pepper, parsley& milk, mix well using a whisk.
Pour mixture over the veggies.
Bake for 30 minutes or until a knife comes out clean, cool on wire rack for 5 minutes- serve.