lamiacea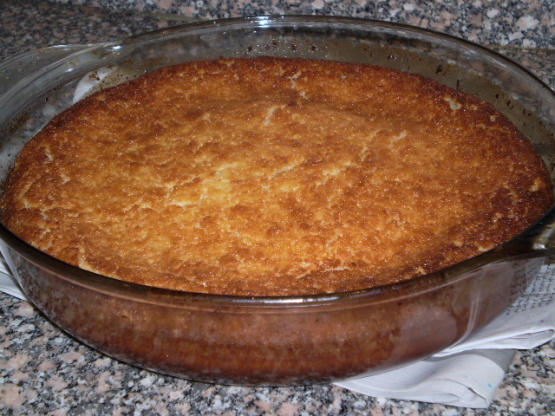 i found this recipe in my sister in law's high school cook book. it really is impossible in everything, impossibly easy to make, impossibly tasty. it has got me out of a fix more than once when i had guests coming over within an hour's notice. this recipe is originally eaten cold, but just last week we had it warm and it still rocked. hope you like as much as we do. Sorry about the temp, the first reviewer was right it does bake at 350*F, corrected it now. Thanks for the reviews.

Considering how easy this recipe is, and how cheap it is to make, this recipe rocks!! Lovely coconut pie, delicious cold or hot.
if you have a blender large enough for this batch, go ahead and blend all the ingredients. if not, use an electric mixer as i do.
pour into a greased 25cm backing dish.
bake in a preheated oven at 350*F for 45 min(check on it after 30 min).
the flour should form a ouhg at the bottom and the coconut will be on top.
enjoy.