vrvrvr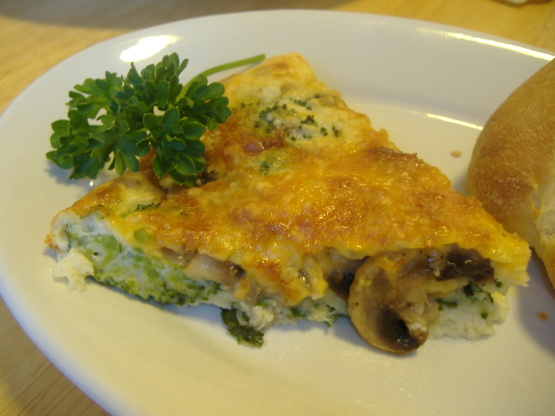 This is delicious and very filling! This is the first recipe I made on my own, and has been a favourite of mine ever since! A classic that is guaranteed to be delicious.

This is so good and easy. I didn't understand about pouring in a spiral, so I started on the outside and circled in and it worked well. I used reduced fat bisquick, fat free shredded cheddar, and low fat milk. It is very tasty and nutritious.
Thaw broccoli crowns in a 9" pie plate, layer with onions and then cheese.
In a large bowl, combine eggs, milk, Bisquix and pepper, beat together well.
Pour mixture over broccoli in a spiral motion (otherwise it may take too long to cook in the middle).
Bake for 25-35 minutes at 400F (a knife poked into the middle should come out clean).