Imo's Pizza Recipe (St. Louis Style Pizza)
Nimz1466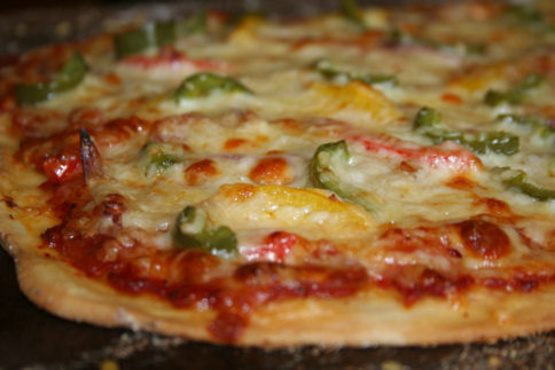 If you've had it, you know its crispy and amazing.he definitive characteristics of St. Louis-style pizza are a super-thin yeast-less crust, the common (but not mandatory) use of Provel processed cheese, and pizzas cut into squares or rectangles instead of large pie shaped slices. The crust is too thin to be folded like a NY style slice so little party pieces werer made. Provel is a trademark for three cheeses fused to form one (provolone, swiss, and white cheddar), used instead of (or, rarely, in addition to) the mozzarella or provolone common to other styles of pizza. (wikipedia.com) George's pizza off of 95th St. in Overland Park, KS is my favorite pizza joint hands down. They do a similar style to this.

I grew up just across the river from St Louis. We had our own Imo's pizza in Godfrey IL so I can say I have had Imo's pizza many times. This recipe is close but no cigar. First the crust. It got it very close, as close as you get without a pizza oven. I suggest using a pizza pan with the holes in it to get the best results. Next the sauce. NOPE!!! Not even close. I found that Prego Pizzaria sauce comes closest. Now the cheese. It is close but not quite right. Instead of one cup white cheddar and one half cup provolone I would switch that. One cup provolone and one half cup cheddar and one half cup Swiss is more like it. That gives you that "stick to the roof of your mouth" effect that Imo's has. I really miss Imo's pizza since I moved to Peoria. This recipe with my modifications satisfys my pizza urge. Now if they only had White Castles here.....
Crust: Mix until thoroughly combined - Dough will be very stiff. makes enough for two (2) 12" pizza pies. The dough is ready to use "as-is" No need to rise or kneed. Divide the dough in half, shape into a round ball and roll out paper thin.
In order to move the crusts around a pizza peel sprinkled with cornmeal works well.
After the crust, it's the sauce that begins the first real steps towards forming the total Imo's pizza experience. Imos uses a tomato sauce mixture that has a sweet taste, but it's not so overly sweet to hide the rich tomato flavor or spices.
Sauce:Combine together and it's ready to use - do not pre-cook the sauce! This Makes enough sauce for about four (4) 12" pizza pies, so that should give you some idea of how much to use on each pizza.
On top of the sweet sauce Imo's uses Provel Cheese, which is simply a blend of Cheddar, Swiss and Provolone cheeses with some liquid smoke flavoring. If you can't find Provel in your local market, it can be easily created.
Cheese:Toss until cheeses and smoke flavoring are completely incorporated. Typically it's enough cheese for two (2) 12" pizza pies, but if you like extra-cheese you'll want to make more.
Authentic Imo's pizza toppings include: Extra-Cheese, Onion, Green Pepper, Sausage, Hamburger, Pepperoni, Anchovy, Bacon, Black Olive, Mushroom, Canadian Bacon, Jalapenos, Pineapple, Banana Peppers, and Tomatoes.
In a professional pizza oven the meat toppings (Hamburger, Sausage, Bacon, etc.) can usually be put on raw, but at home you'll want to fully precook the meat before assembling the pizza.
Now you have the correct style crust, sweet sauce, smoky cheese, generous toppings, it's now ready to be lightly sprinkled with some Italian seasonings.
Seasonings: Combine all the ingredients in a small mixing bowl and blend well.
While in the restaurant the pizza is baked in a pizza pan, at home you'll have the best results using a pizza stone and an oven temperature around 450 degrees. If you don't have a pizza stone, use the thinnest baking sheet you have and the lowest over rack position. The pizza is done when the underside of the crust is a dark golden brown, and the cheese is has a slight golden tint to it. Underbaking the crust will result in a limp crust, overbaking will result in a hard, tough, burnt-tasting crust, getting the right baking time to produce a crisp crust will require a bit of experimentation. The amount and type of toppings you use will also affect the total baking time. A rule-of-thumb is to check the pizza after about 10-12 minutes and adjust baking time from there accordingly.
And, as a final touch to truly replicate Imo's Pizza at home, is to cut the pizza into tile-like squares instead of the traditional triangle slices.