Bergy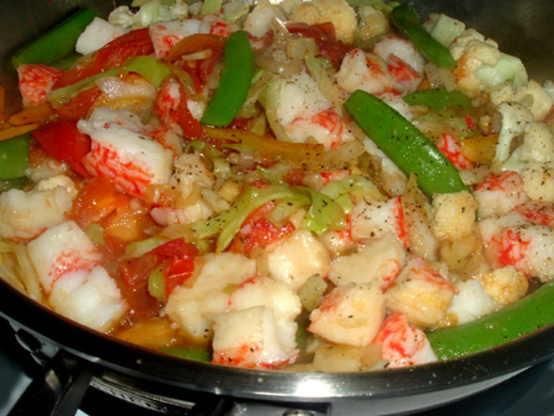 This is a filling, tasty dish. Perfect for those who are watching their waistlines and are tired of bland cuisine.

Top Review by Bergy
This is an easy tasty meal and a lovely way to use imitation crab. I did a couple of things differently - I would have liked to use red cabbage. It would provide a lovely color contrast but all I had on hand was green cabbage. To add more color I added a carrot. Also, I like my vegetables a bit crisp so I cut the cooking time back to a total of 15 minutes. I added the crab & pea pods for the last 5 minutes. Thanks Maw's Kitchen for a lovely healthy dinner
Prepare all fresh veggies and place into individual bowls.
Sprinkle a pinch of ground ginger and salt on onions, cauliflower, cabbage, snow peas and tomatoes.
Coat bottom of frying pan or wok with olive oil.
When oil is hot add onions and sear for 5 minutes on high.
Add garlic, cabbage, snow peas and cauliflower.
Stir all ingredients together and add soy sauce to taste.
Decrease heat and cover pan. Let simmer for about 15 minutes.
Add imitation crab, toss ingredients to mix and cover. Simmer for an additional 15 minutes.
Serve as is or over a bed of white rice.