I'm a Little Nutty Pecan Pie Bars
diner524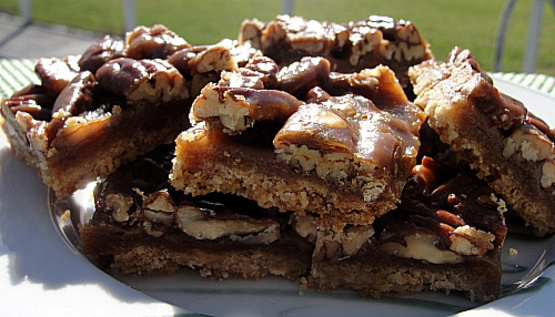 This was in the Milwaukee paper; the picture posted with them looked so good I had to post this recipe to try later...

Made these bars, along with several other cookies, for our contribution to an early New Year's celebration potluck! These wonderful tasties were very well received ~ Gone in no time, in other words! Many thanks for sharing this great recipe! [Tagged & made in Please Review My Recipe]
Preheat oven to 350 degrees F.
Cut 3/4 cup butter into 1/2 inch pieces.
In a food processor blend butter, flour, 1/2 cup brown sugar and the salt until mixture becomes slightly crumbly.
Sprinkle mixture into a 9x13 baking pan and press evenly onto the bottom.
Bake on middle rack of oven for 20 minutes or until golden brown.
Coarsely chop pecans.
Melt remaining 1/2 cup butter and remaining 1 cup brown sugar, honey and cream in a heavy saucepan.
Simmer mixture stirring occasionally for 1 minutes.
Stir in pecans and then pour mixture over hot crust and spread evenly.
Bake on middle rack of oven for 20 minutes or until bubbling; remove and let cool.
When slightly cooled, run a sharp knife around the edge of the pan to loosen bars.
Cool completely in the pan and cut into bars.
Bars will keep for 5 days covered at room temperature.