BarbryT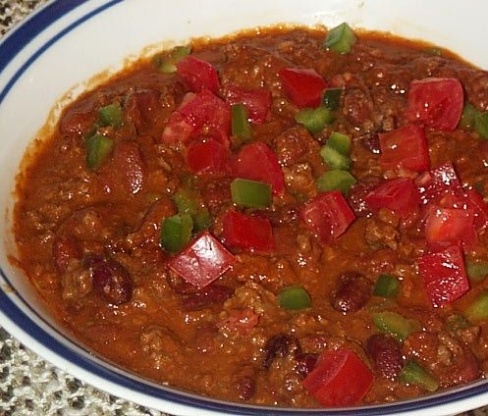 Yes, from the Illini Union cafeteria at the University of Illinois at Urbana-Champaign. Got my bachelor's there, worked there for 12 years, got my master's there and this mild, yummy soothing chili was a mainstay. Still is, only now I make it myself. I generally make at least a double and often a triple batch because it freezes beautifully. I also use about half light red and half dark red kidney beans, just because. For authenticity, serve with fritos. Also excellent with hot corn bread. A really good variation is to add some small-diced raw green pepper and halved or quartered fresh grape tomatoes for a bit of a crunch and nice freshness, when serving.

Made this for our lunch and I did add some onions and jalapenos otherwise I followed the instructions. DH felt that it needed a little more spice I thought it was fine. Maybe my chili powder was old...it was almost gone. Anyway we enjoyed this. Thank you for posting. Made for 2014 Zaar Cookbook Tag game.
Lightly brown ground chuck in large skillet.
Add chopped onion and garlic and cook, stirring occasionally, until vegetables are tender.
Add tomato puree, chili powder, salt, ground cumin and water.
Add kidney beans and mix.
Simmer, stirring occasionally, for 2 to 3 hours.