Ila's Raisin and Cinnamon Biscuits
Prep 10 mins
Cook 15 mins

Good with coffee first thing in the morning. Very similar to the biscuits we used to get at Harmons.
Directions
Mix all ingredients together to form dough.
Drop by teaspoon onto greased cookie sheet.
Bake at 425° for 12-15 minutes.
Drizzle with a cream cheese frosting.
Most Helpful
I thought these were wonderful. IMO more like a scone than a biscuit. I increased the sugar to 1/4 cup and added a glaze (we like sugar!). I don't like how messy dropped biscuits look, so I light patted them into a 1/4 measuring cup and I got 8 well formed biscuits that fit perfectly into my 9" round glass baking pan. I turned the oven down to 400 since I was using a glass pan and my biscuits were thicker. These were just what my insomnia needed at 4 am. Thanks for posting!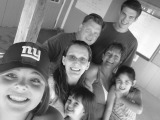 I thought these could be sweeter than they were. Made for 123 Hits

These were excellent! I really liked their cinnamonny flavour complemented nicely by the oats. I used ordinary oats, cause that's what I had on hand and the biscuits turned out wonderfully. They were really easy to put together and also very quickly done. I followed Annacia's lead and baked them in scone shape, but half way through the recipe I realised, you may have wanted them to be cookies. That would be delicious as well, I think and Ill definitely give it a go soon. This is a keeper! Thanks so much for sharing, Hill Family! Made for Potluck Tag February 2009.