Another yummy adult beverage from Ila.
Directions
In a cocktail shaker, lightly muddle 1/2 cup blueberries with the sugar, lime wedges, mint and a small splash of club soda. Add the ice and rum and shake.
Spoon the remaining 2 tbsp of blueberries into a tall glass and pour in the mojito. Top with a small splash of club soda and serve.
Most Helpful
Fantastic! I made these as an end to our day of blueberry picking, and they were perfect. I ended up adding a bit more club soda, because I prefer a less-sweet drink. The muddled berries, mint, and lime were a perfect combination!

We've been making these all weekend, boy are they tasty! A perfect drink for sipping on the porch swing. I used chocolate mint from the garden in place of spearmint, and it worked great. Thanks you Ila and the Hill Family!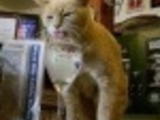 Made this for the Winter '07 'Zaar tag game. Thank you Hill Family! I will be making this again during Maine's next blueberry season!