Icy Rhubarb (Scandinavian)
Rita1652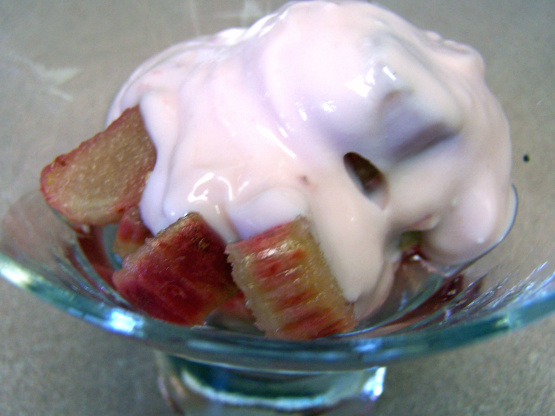 Posted for Zaar world tour II

Very easy using 1 1/2 pounds frozen rhubarb. Warming from the cardamom and cooling from the rhubarb,lemon and yogurt(I used raspberry skipping the sugar and lime). I didn`t use any of the wine and didn`t replace it with anything. Thanks for a different type of dessert!
Add the water, sugar, wine, vanilla bean (split in half lengthwise), cardamom zest and juice of 1 lemon in a pan. Bring to boil.
Cut the rhubarb thinly in a bowl(If the outer layers of the rhubarb are thick peel them).
Pour the boiling mixture over the rhubarb.
Put the mixture in the freezer or the fridge to just cool it off.
Then take the mixture and put in severing dishes.
In a bowl add the yogurt, powdered sugar, zest and juice of 1 lime mix well.
Sever over the rhubarb.
Enjoy the cool fun.