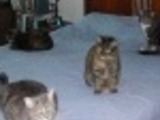 Posted for Zaar World Tour 2005. Just picked this recipe up when I was in Iceland from a cookbook called Cool Dishes. I think kids might really like this recipe, and it's relatively healthy too! A dessert soup might tickle their fancy. The book recommends serving this with crumbled rusks. Have not tried this recipe yet.
Directions
Mix the cocoa powder, sugar and cinnamon in a saucepan.
Add the water gradually and stir until smooth.
Bring to boil and simmer for 5 minutes.
Add the milk, reheat to boiling point and simmer for 2-3 minutes.
Mix the potato starch or cornstarch with a little cold water, stir into soup and remove from heat.
Salt to taste and serve.
Most Helpful
Mmm, this cocoa soup really is super yummy! A sweet, chocolatey treat, perfect for a chilly day or just to cheer you up after work. I enjoyed it with some home-made spice cookies, which was a perfect match. For flavour this would be a definite 5 stars, but unfortunately it never thickened, even though I used 2 tbs potato starch and allowed the soup to simmer for quite a while. Nonetheless it was very much enjoyed! :) Made and reviewed for Veggie Swap #16 Novembre 09.

This was fun to make & a treat for this chocoholic. I admit I have the advantage of *on-site input* & it turns out nearly all recipes for it match yours, altho some suggest using vanilla instead of cinnamon. The thickness (or lack of it) was the main issue in prior reviews & I found 1T cornstarch is used for thin soup, 2T for thick soup & 3T for pudding. I used 2T, cooked it till it was clearly starting to thicken, removed it from direct heat & let it sit for a few min. This method got me the equivalent of a thick & creamy hot chocolate that I liked a lot. Thx for sharing this recipe w/us.

I am so sorry, i dont want to be mean but my friend and I wanted to make this recipe for a Geography ISU and it did not work well. I'm sure that somewhere we are screwing up but it was sooooo bitter and just overall unpleasant. :/