Derf2440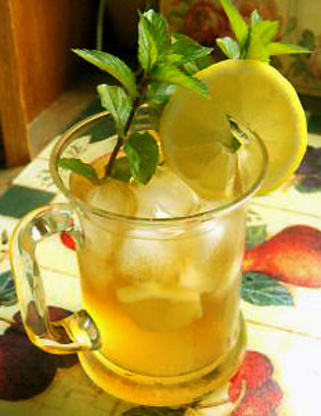 If you enjoy having a soothing, refreshing glass of iced tea in the summertime, I hope you will try my version of sweet mint tea. I grew up drinking mint tea and still enjoy it so very much today. If you don't care for sugar in your tea, just leave it out, it will still be just as satisfying.

Invigorating mint and freshly brewed tea go together like peanut butter and jelly...truly a match made in heaven. We too, grew up drinking this beverage...our friends grew mint in their yard and we'd eagerly pick some on each visit, then hurry home to prepare our tea. I enjoy it sweetened and minus the lemon, although a slice perched on the rim of the glass is always eye-appealing. There are recipes with alternative methods such as using peppermint flavored tea, but fresh mint is truly the way to go. If you love iced tea, don't miss this one!!
In large tea pot (or two small tea pots) pour boiling water over tea bags and mint and allow to steep for 20 minutes.
Place sugar in 2-quart pitcher (that will tolerate some heat).
Pour freshly brewed tea (minus mint and tea bags) into sugar and stir until sugar is dissolved.
Place in refrigerator until ready to serve.
To serve, pour into tall glasses over ice.
Serve with lemon slices.
Serves 8.