Diana 2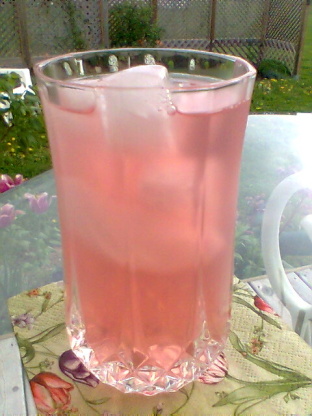 This is sooooo good. And very pretty in a glass.

I am editing my review of this recipe. When making this tea, I use 8 cups of diced rhubarb, rather than the 8 stalks, plus I used 1-1/2 cups of sugar. That seem to be the perfect amount of sugar for this recipe. Also, this tea can be made using 8 cups of frozen rhubarb, and I simmered the frozen rhubarb (covered) for 2 hours. Now I can enjoy this iced tea all year round. One other thing I forgot to mention while posting my review... I found this recipe made more than 8 cups. It made (about 88 ounces) 2-quarts and 24 oz. Sugarpea, 2 other reviewers described this iced tea perfectly... refreshing, exquisted, and fantastic! Thank you sugarpea for posting this recipe. It's definitely a keeper!!
Add rhubarb to water and bring to a boil; reduce heat and simmer for 1 hour.
Strain and add sugar to taste; serve iced with mint garnish.