Prep 15 mins
Cook 1 hr 30 mins

These are fabulous, soft and fluffy cookies packed with flavor. The icing really brings them up a notch. I got this recipe from a friend. This makes a lot - great for a party or tailgate in the fall!
Directions
Preheat oven to 350°F.
Combine all cookie ingredients, mixing well.
Drop by spoonfuls on greased cookie sheets.
Bake for 12-15 minutes, or until they test done to the poke test.
While the first batch is baking, combine the icing ingredients and mix well.
As each batch comes out, let rest for a few minutes until set and then move to a drying rack.
Ice while still warm.
Reviews
Most Helpful
These were delicious and that icing? OMG amazing!! Super easy to make and very more-ish. These did not last long!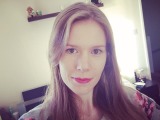 Wow these were light, fluffy and delicious! People kept commenting on how they tasted and looked like muffin tops. If only Seinfield had this recipe ;) I did end of substituting 1/2 of the flour for whole wheat flour since I ran out of regular but otherwise followed the directions perfectly.

I love these cookies! Don't omit the icing, it really adds to the flavor of the cookie.