Forget FrappeCrisco! This is the killer app of coffees.
4 tablespoons ground espresso
2 teaspoons chocolate syrup
ice
1 cup milk
Directions
You will need an espresso maker. Before preparing 4 cups of espresso, grind and coat the bottom of the filter with the cardamom.
Add the espresso grounds and begin brewing.
The resulting espresso should be infused with the scent of cardamom. Add chocolate syrup and then sugar to taste.
Pour over ice and milk.
Most Helpful
Different, but in a good way! I really liked the flavor of cardamom in this, its a little subtle, but I liked that. I think any more and it would be a bit much. Thanks so much for this recipe! Made for My 3 Chefs contest.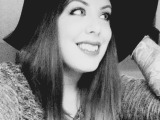 Wow, this was a lovely treat today. I love cardamom so added a lot more. I enjoyed a nice strong dark iced mocha flavored coffee with cardamom. This was so quick and easy to make, thank you for sharing your recipe. Made for Spring Pac 2014.