Annacia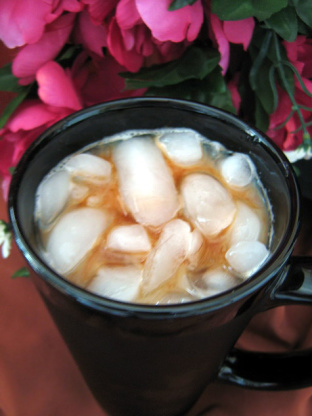 Refreshing and cool, you can sweeten this with your favorite flavor of coffee syrup.

Also used Recipe #255067 for this recipe like Pneuma. My husband is a huge coffee drinker but since this is the summer, I thought I would try this out on him. I used less of the syrup (he is manly and doesn't need sugar, you know) and liked this very well. Thank you for sharing. Made for ZWT4.
2 -3

ounces espresso (double shot)

2 -3

teaspoons sugar, to taste (optional)

2

teaspoons vanilla coffee syrup or 2 teaspoons other flavor coffee syrup

5

ounces milk, to taste
ice (as needed)
Using an espresso machine or cappuccino maker, prepare 2 shots espresso.
Fill a large serving glass 2/3 with ice.
Do not use extract or ice cream topping in place of syrup (use types specially made for beverages).
Add vanilla syrup, sugar (if desired), and espresso to glass and top up with cold milk.
Stir or shake briskly until syrup and sugar is nicely blended in the drink.