Annacia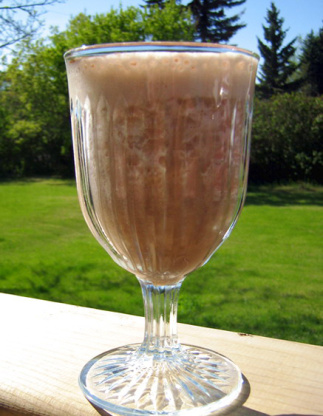 A nice cold drink for a hot day. If you prefer it sweeter, just add a bit of sugar or honey or other sweetener. Prep time does not include chilling/freezing time.

Yum yum yum. I was expecting kind of a low-fat coffee-banana shake but this really was more like a creamy iced latte with a heavy hint of banana, and just great. The frozen banana gave it the body/creaminess it needed being lowfat, and saying this from Seattle, where I could be lynched for such talk, I'd have to say this beats the calorie-laden creamy coffee drinks you can buy hands down, because it not only tastes good, the fat grams won't kill me! It's also dirt cheap compared to buying it. I added a packet of equal, cuz I like 'em a little sweet, and used ridiculously strong coffee to mimic espresso.
1⁄2 cup skim milk (or soy milk)
1⁄3 cup strong coffee or 1⁄3 cup espresso, chilled or at room temperature

1

banana, frozen and sliced

2 -3

ice cubes
cocoa, for sprinkling
cinnamon, for sprinkling
Pour milk and coffee into blender.
Combine.
Add banana.
Blend until mixture is smooth.
With blender running, add ice cubes one at a time, blending until each is incorporated.
Use enough ice cubes to obtain desired consistency.
Pour into a glass.
Sprinkle with cocoa and cinnamon.
Serve immediately.
Makes 1 large serving or 2 smaller servings.