WiGal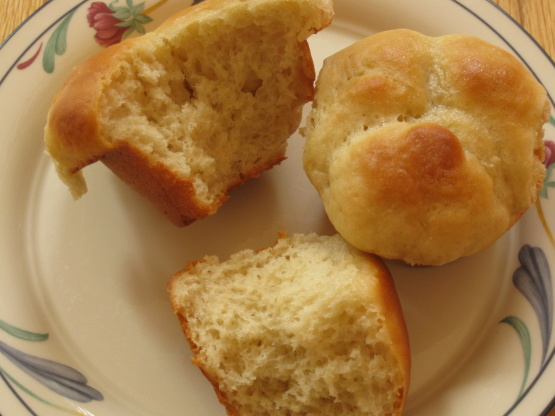 These rolls have a sweet taste and are SO easy to make - NO kneading required. I got this recipe in 1979 from the interns' wives at UTMB in Galveston, Texas, while attending school there. The dough can be made up to 2 weeks in advance, and is stored in the refrigerator until ready for use. YIELD: 24 rolls

These are so easy to make & are a delight to eat, for sure! Followed the recipe right on down, then cooled & froze 14 of 'em just to see how they come through that, & after a couple of days frozen they were as good as new (well, almost, anyway)! And, those fresh from the oven were outstanding & the 2 of us managed to get through them before they ever even started to get stale! Definitely a recipe I'll be keeping around! Thanks for sharing it! [Made & reviewed for one of my adoptees in this fall's round of Pick A Chef]
Combine shortening, sugar, and 1 cup of the water in a medium saucepan. Put over LOW heat, just until shortening and sugar are dissolved. Remove from stove, and allow to cool to at least 110 degrees.
Combine second cup of water - heated to about 110 degrees - with yeast in a small bowl, and stir until dissolved. NOTE: DO NOT overheat water, as then the rolls will not rise.
Combine flour and salt in medium bowl.
In a large bowl, beat eggs slightly, then add cooled shortening mixture, yeast mixture, and flour mixture, beating well after each addition. NOTE: Dough will be very "sticky". Do NOT add more flour. Cover bowl tightly and set into refrigerator overnight. Take out rolls as needed - but dough may be stored in refrigerator for 2 weeks.
When ready to bake rolls, spray muffin tins with cooking oil. Take dough out of refrigerator. Flour your hands, and make small balls of dough by rolling in your hands. Balls should be about 1 inch in diameter or slightly larger. Place 3 balls of dough into each muffin tin space. Then cover entire pan with a lightweight dish towel, and place in a warm place for 1 hour to rise. NOTE: You can turn on oven at 200 degrees for about 2 minutes. Then, turn off, and keep door closed with oven light on. Then place covered roll pans into oven for 1 hour.
Remove risen rolls from oven. Turn oven to 350, and when at temperature, bake rolls for about 15 minutes, or until golden brown. NOTE: Some oven's heat is not regulated, so check temperature with oven thermometer.
When rolls are done, take out of muffin tins and place on baking rack to cool. Brush tops with melted butter or margarine. Serve immediately, or freeze until needed.
These can be stored in ziploc bags and frozen, but be SURE that rolls have cooled completely before placing in bags. When ready to serve frozen rolls, let them come to room temperature, and then microwave to warm up.