Iceberg Wedge with Blue Cheese Dressing
Ms B.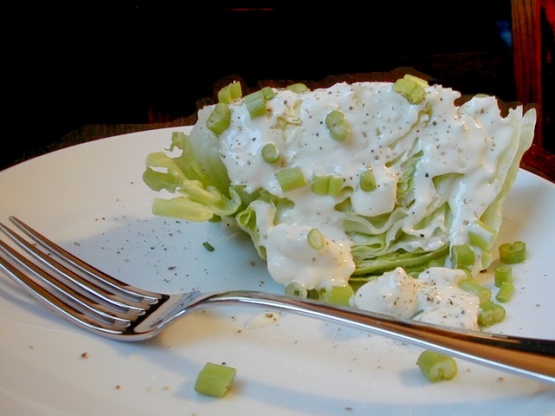 This is one of my favorite ways to serve this lettuce. Cook time is the chill time for the dressing. Prep time is the time for the lettuce to chill overnight.

It just doesn't get any simplier or better than this. In just a few minutes you have a beautiful and tasty salad. I added a few halved cherry tomatoes and a sliced fresh mushroom to mine and it was fantatic!!!!!
For salad, remove core from an iceberg lettuce by banging core end of lettuce sharply on the counter.
Then grab core, twist and pull.
It will separate cleanly.
Plunge cored head of iceberg forcerfully into a sinkful of cold water.
Drain, wrap in a towel, and refrigerate over night.
For dressing, combine sour cream, mayonnaise, scallions, and lemon juice in a bowl and mix well.
Stir in cheese, cover with plastic wrap, then refrigerate for at least 4 hours.
To serve, cut lettuce into 4 large wedges, spoon dressing over it, and season generously with pepper.