Iceberg Lettuce Wedges W/Creamy Blue Cheese Dressing
Rita1652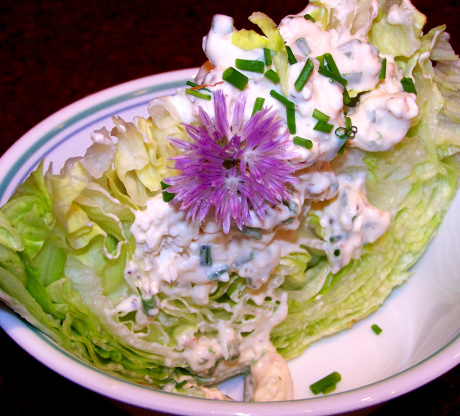 One my favorite salads! So elegant looking yet so easy to make. Great for dinner parties! Happy to share!

Couldn't cook today - it was too hot. This is a real heat-buster. Used roquefort in place of the bleu and creme fraiche in place of the sour cream. Fleur de sel was my salt of choice. Everything else as is. Delicious.
Cut the lettuce into 4 wedges and place on chilled plates.
In a medium bowl, whisk together remaining ingredients, until the dressing is creamy but still slightly lumpy from the blue cheese.
Spoon a generous amount of dressing over each wedge of lettuce.
Garnish with the extra chives and serve.