katii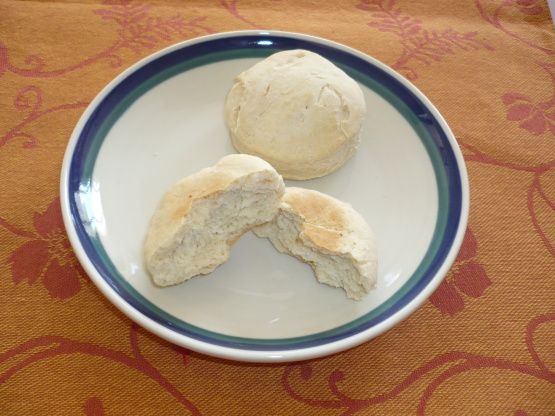 from the All Recipes site - sounds easy but will it be tasty?

Top Review by katii
I wavered between a 3 and a 4 on these. They were pretty good, and they sure looked pretty. The vanilla ice cream flavour came through a bit, but basically these were a bit too bland. A bit doughy, too, even though I kept them cooking after the recommened time. They rose up very high, and the dough was nice and easy to work with. Thanks for posting, but I'm pretty sure I won't be making these again. *Made and Reviewed for Spring PAC 2009*
Preheat oven to 350 degrees F (175 degrees C).
Pour the ice cream into a large bowl; fold the flour into the ice cream until the dough just begins to come together. Using your hands, gently knead the dough into a ball, adding flour as necessary to keep the dough from sticking.
Turn the dough out onto a lightly floured surface and roll into a 9x13 inch rectangle. Cut the dough into 12 circles, 3 inches in diameter, and place on a baking sheet.
Bake in the preheated oven until golden brown and cooked through, 15 to 20 minutes.