eabeler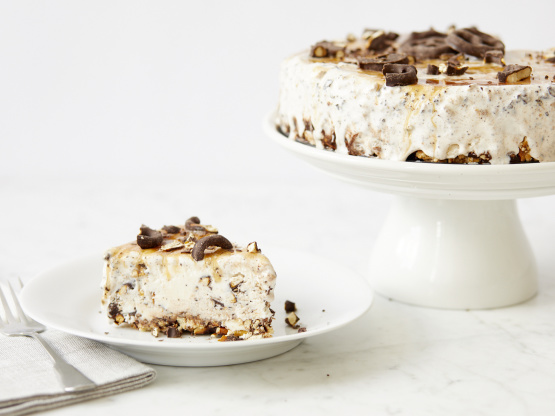 If you like the sweet and salty cobination, this is sure to please. This recipe was inspired due to my husband and boys always eating pretzels with their ice-cream. It's simple to make ahead and just pull out of the freezer when you need it.

Top Review by Calee
My family loves pretzels but have never tried it with ice cream, what a treat. Easy to make. Crushed the pretzels in a food processor then just added the butter and let the processor do the work. I made it in a 9 inch square springform pan. I found that the chocolate fudge topping melted faster than the ice cream when cutting it which made the chocolate topping kinda flow over the pretel bottom which made for a pretty presentation. Love this just as written but next time I would like to try ground spanish peanuts on the top of it just for variety. This recipe goes into the binder for safe keeping, thanks V.
1 1⁄4 cups crushed pretzels

6

tablespoons cold butter
3⁄4 cup chocolate fudge topping, warmed

2

(7 1/2 ounce) packagesminiature chocolate-covered pretzels
1⁄2 gallon vanilla ice cream, softened
1⁄4 cup caramel ice cream topping
Place crushed pretzels in a small bowl; cut in butter until crumbly.
Press onto the bottom of a greased 9-in. springform pan.
Cover and freeze for at least 30 minutes.
Spread fudge topping over crust; cover and freeze.
Set aside 16 chocolate-covered pretzels for garnish.
Place remaining pretzels in a food processor; cover and process until crumbly.
Transfer to a large bowl; stir in ice cream.
Spread over fudge topping.
Drizzle with caramel topping.
Garnish with reserved pretzels.
Cover and freeze for at least 8 hours or overnight.