Ice Cream Parlor Coffee Mocha Sodas
Annacia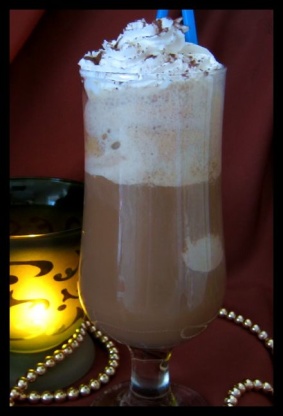 The Coffee Fluff Shake turned out to be such a popular idea that I decided to enter more coffee treats. While I am sorely tempted, DH & I are NY resolved to only indulge for VERY SPECIAL occasions, so I hope some of you will be sorely tempted enough to try this & the 3 that accompany it. My source for all 4 is worldwidemart.com. Enjoy!
i could drink this for breakfast lunch and dinner!!! I love it....<br/>Instead of using chocolate icecream I used turkey hill coconut almond fudge ice cream and ginger ale for the soda and it was mouthwatering!!!
Place very hot water in a med-sized pitcher & stir in coffee (finely ground to a powder texture) until dissolved.
Stir in milk.
Place 1 scoop of ice cream in each of 4 ice cream soda glasses.
Pour coffee/milk mixture equally into each glass.
Fill glasses almost to brim w/club soda.
Top w/sweetened whipping cream or prepared whipped topping.