alligirl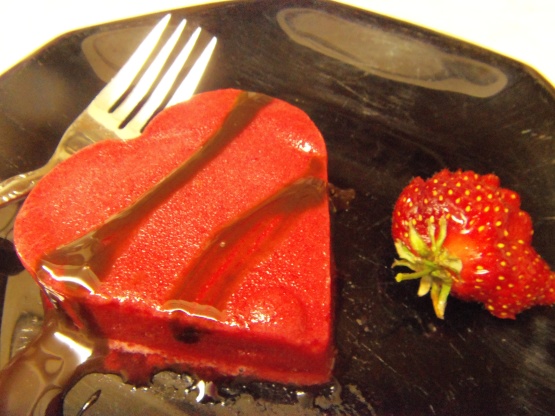 www.finedinings.com I actually just used Smucker's fudge sauce to save on time!

We certainly enjoyed this; the presentation was awesome! I used raspberry sorbet, knowing that the chocolate would be a nice complement. I was in such a rush (so the sorbet wouldn't melt), that I forgot the mint. :-( Sorry for that. The glaze is dreamy and would be lovely on so many different things. Thanks for sharing this lovely recipe, keeney.
In a small square pan, spoon ice-cream to a depth of 1/2 inch (I did a 1 1/2 inches!) and freeze.
Combine ingredients in a saucepan. Whisk over low heat until chocolate has melted and is smooth.
Cut 2 hearts with a heart shaped cookie cutter and place on dessert plate.
Pour sauce into a squirt bottle and drizzle over heart - and use your imagination for decorating the plate! Add fanned strawberry and a sprig of mint to complete the presentation.
Ice cream hearts can be made 2 weeks before serving.