My mom used to make these - not sure where she got the recipe. Now I make them for my own family and they are a favorite. I've always followed the recipe as is, but I'm sure you could experiment with different flavors of ice cream. We have tried different toppings but the caramel seems to be the perfect compliment.
Directions
Mix graham cracker crumbs, peanut butter, sugar & cinnamon.
Make balls out of the ice cream and roll in dry mixture.
Freeze.
Serve with caramel topping.
-To make the balls: Cut a square 1/2 gallon of ice cream into 4 equal slices. Then cut each slice into quarters. Mold into a ball with your hands and by rolling it in the dry mixture. Only work with 1-2 "slices" at a time or the rest will melt too much while sitting out. It will also melt quicker if you take too much time to form the balls.
Reviews
Most Helpful
I use a 9x9 pan. Put 1/2 crumbs in pan. Add ice cream on top pat down. Cover with the rest of the crumbs. Freeze

How I'd never made ice cream balls before this I'll never know because these were GREAT! So easy and tasted amazing. I may have eaten way too many, haha, but they were that good I couldn't stop!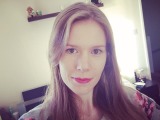 We love these! We just use an ice cream scoop to make into a ball shape, and roll in the crumbs. Works well.