I-Tim Ma-Muang (Mango Ice Cream)
Prep 30 mins
Cook 30 mins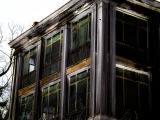 You will need a Ripe Mango Which in Thailand, land of abundant, glorious fruit, is easy to come by. In America you will have to be the judge. The flesh of ripe mango is fragrant and should give slightly to the touch. To ripen, leave the fruit out at room temperature for a day or two in a closed paper bag. I got this recipe from an Excellent book called "The Best of Thailand".
Directions
Ina heavy-bottomed medium saucepan, beat egg yolks and sugar together.
Stir in milk until well combined.
Cook medium heat, stirring constantly with a whisk until thick enough to coat the back of a spoon, about 10 minutes.
Remove pan from heat, cover, and let cool.
Stir in heavy cream and vanilla until well combined.
Cover and refrigerate until cold.
Peel and cut mango.
Remove all flesh and discard seed.
In a food processor, process mango flesh until slightly chunky.
Stir mango into cold custard.
Turn mixture into an ice cream maker and freeze according to manufacturer's directions.
Garnish scoops of ice cream with mango slices.
Most Helpful
not sweet enough, no mango taste and no one really liked it.. sorry :(

Yum. What a wonderful way to use up some excess mango. I did halve the sugar and it was great. The little guy dug it out of the freezer in the middle of the night and polished it off. LOL Zaar World Tour 05
Excellent. I may cut back on sugar next time but it's fabulous MANGO ice cream. ;) Thanks for the recipe!