I Hate Ricotta Meat & 2 Cheese Stuffed Shells
Pamela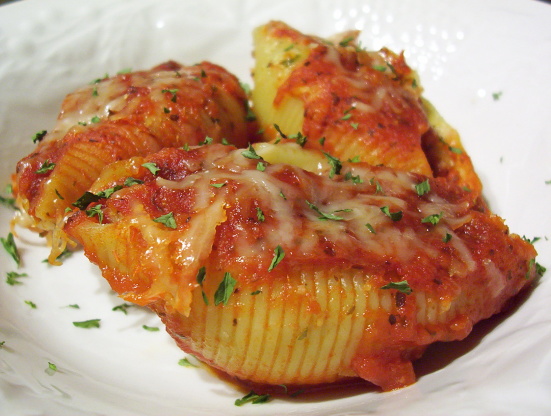 My non-ricotta cheese-eating husband always raved about "the meat stuffed shells his mom used to make." His grandmother recently wrote to the TV guide (where this recipe originated) and they were kind enough to send back the recipe, dated September 13, 1976. I have to agree, these are delicious! Serve with a tossed salad and garlic bread. The prep time includes the pasta/beef cooking; the cook time is the baking time for the casserole.

These are great!! I got 1 9*13 and 1 8*8 pan but that was OK cause we all ate seconds. One tip that was on the box of shells that I used was to only cook the shells 9 min then drain and dump out onto a cookie sheet. This was awesome advice because the shells didn't touch each other on the cookie sheet so they didn't stick together. And they were still firm enough to stuff with out them ripping. Definitely adding this to the Keeper file.
Boil water for pasta.
Meanwhile, in a large skillet, brown ground beef, onion and garlic; drain and cool.
Cook pasta in water, drain.
Preheat oven to 400 degrees.
Meanwhile pasta is cooking, combine meat, mozzarella cheese, bread crumbs, egg and parsley; season with salt and pepper.
Mix spaghetti sauce with tomato sauce; cover bottom of a 13x9 casserole dish with 1/4 of the sauce.
Stuff cooked, drained shells with the meat mixture and place on top of sauce in dish in a row.
Add red wine to remaining sauce and mix well; cover shells with sauce and sprinkle with parmesan cheese.
Bake in oven for 20-25 minutes or until bubbly and browned.